a wedding dress for Tamora, Queen of Goths
costume design and photos : Eloise Kazan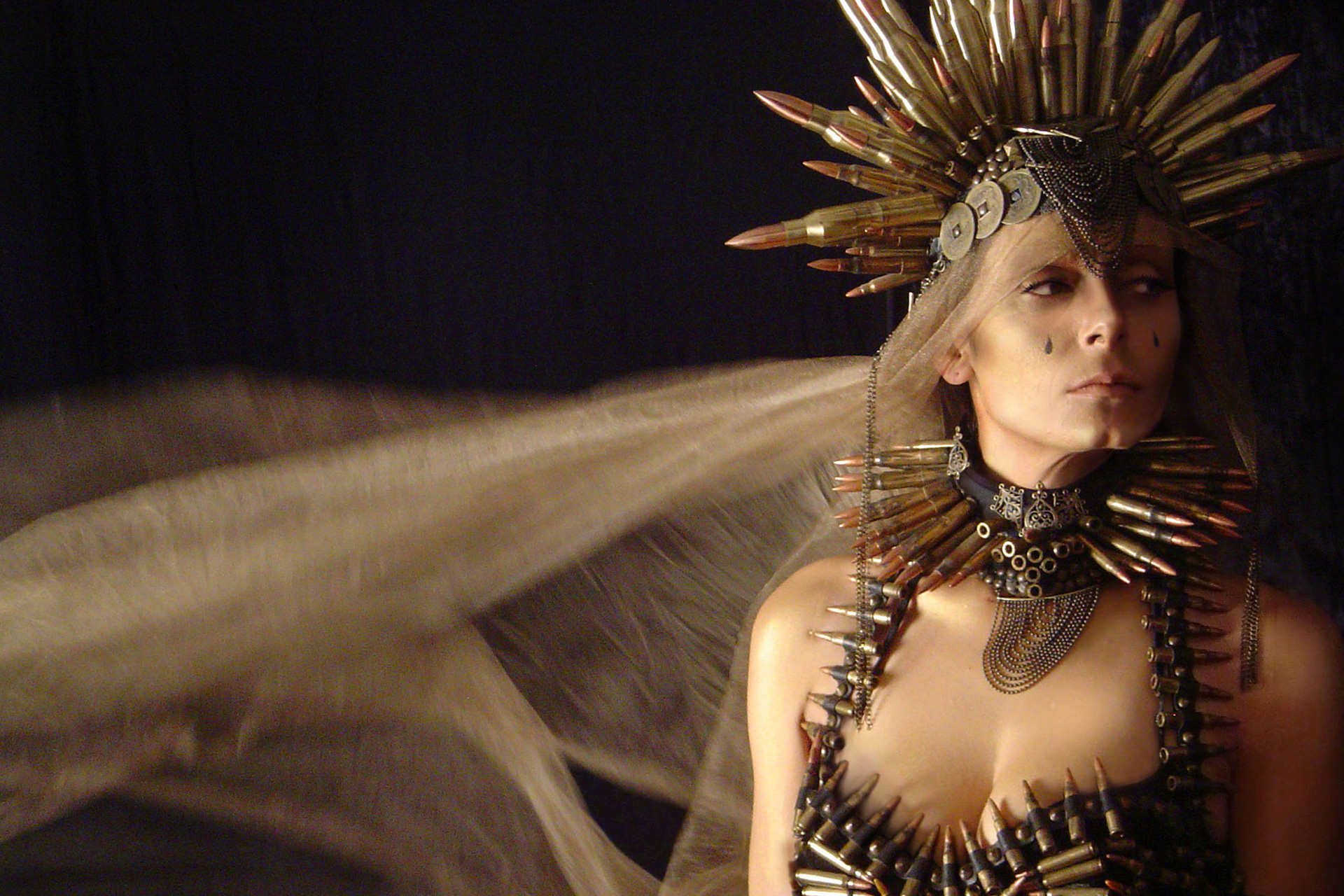 Queen Tamoras,
bullet wedding dress was created for a project called The Titus Procession based on William Shakespeare´s Titus Andronicus.
The PROJECT: I begun work on this project in 2007 with the intention of creating a costume focused performance that will be able to tell a structured story without words, using costumes as the main narrative tool. The story of Titus Andronicus is told from the perspective of the mute, tongueless Lavinia. There are character costumes, but I also created costumes representing space, location and past events. As a designer I wanted to explore extreme metaphors and materials. It is still a work in progress or rather transformation, but some first fragments of The Titus Procession including this dress, were presented at a Young artist grant showcase performance organized by the Mexican National Fund for Art and Culture (FONCA).  The dress was also exhibited in June 2011 at the Extreme Costume exhibition at the National Gallery in Prague, as part of the Prague Quadrennial 2011.

The COSTUME, wedding dress for Tamora, Queen of Goths: Tamora, The queen of Goths marries the Emperor Saturninus to arm herself against Titus and so avenge the murder of her son Alarbus. Her marriage is an act of violence, hate, revenge and a perversion of love. Accordingly, I designed for her a wedding dress made of bullets, a cold, heavy shell, an arm and armor in one, a self destructive fort. She is followed at all times by a baby carriage on fire representing her sacrificed son. The ammunition on the dress is real and it was courtesy of the Mexican Army. I used more than 2000 real bullet cases.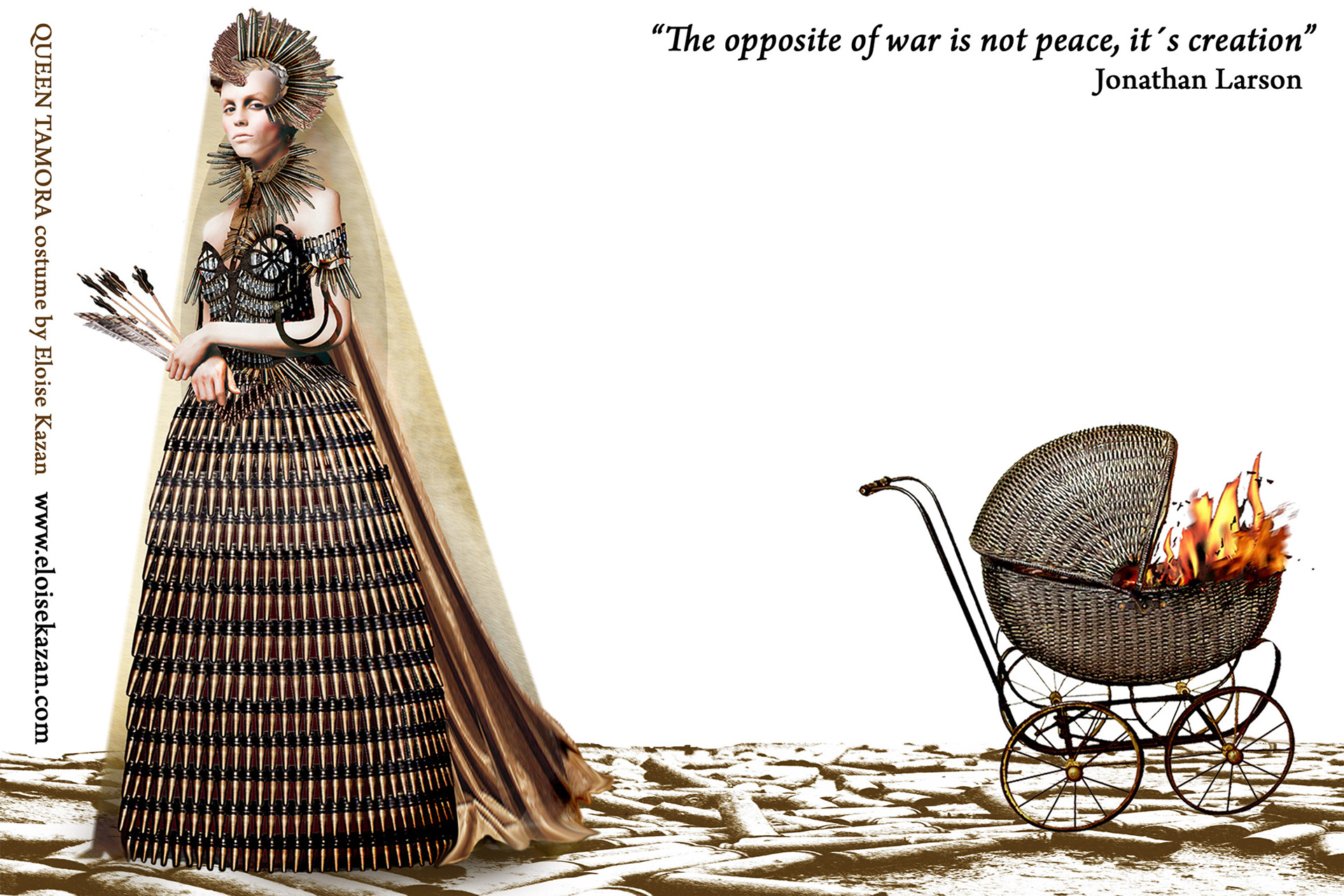 Other costumes for Tamora include a dinner dress made of bread hooked onto a steal crinoline. During the final dinner Tamora eats her own dress soaked in blood red wine revealing her naked, fragile body. The steal crinoline is a constant costume element for that character as at the beginning it serves as the cage in which she is brought to Rome as a prisoner, then it has the role of supporting the heavy bullet covered skirt and in the end it is a meat hook in which she is caught during the final dinner.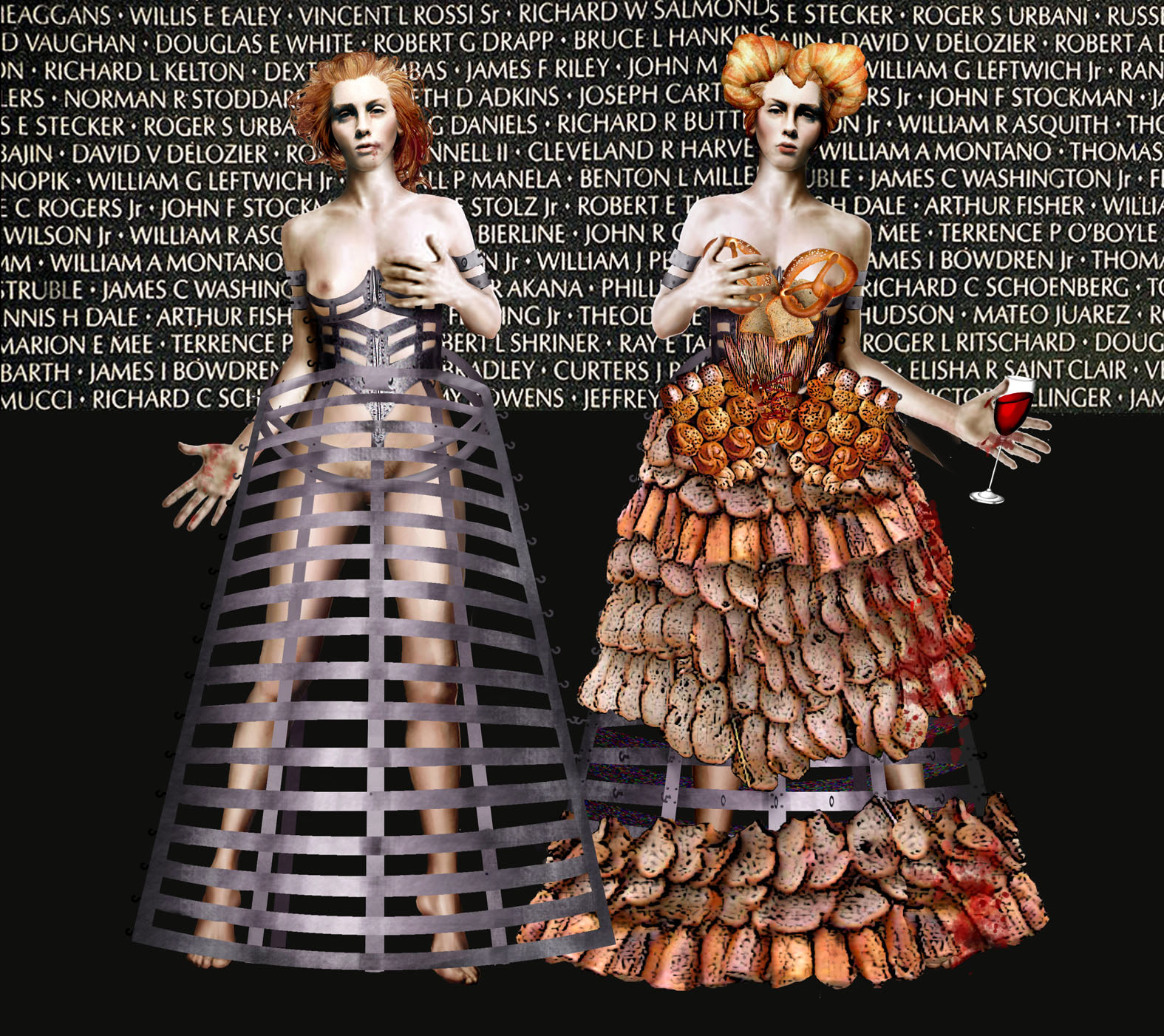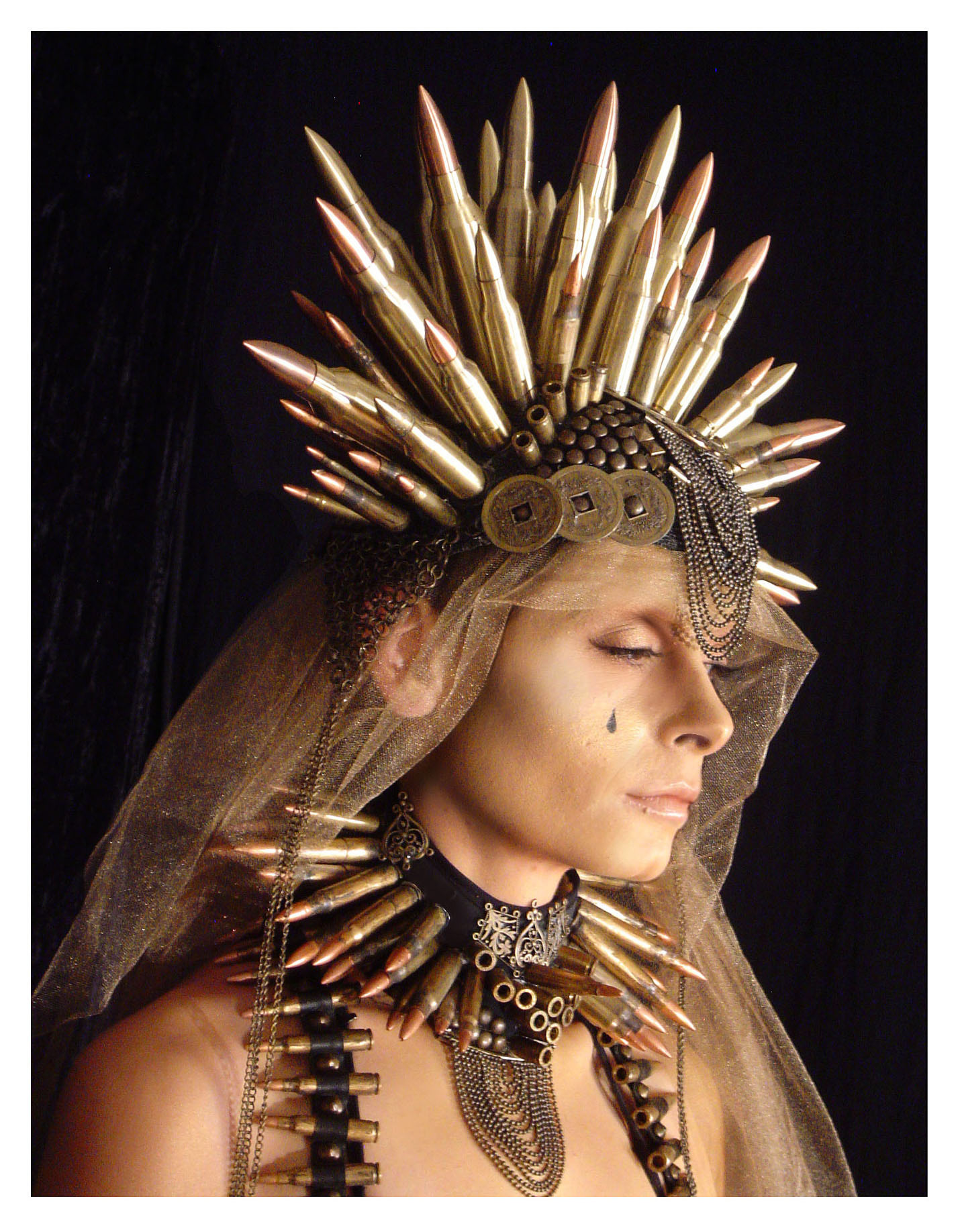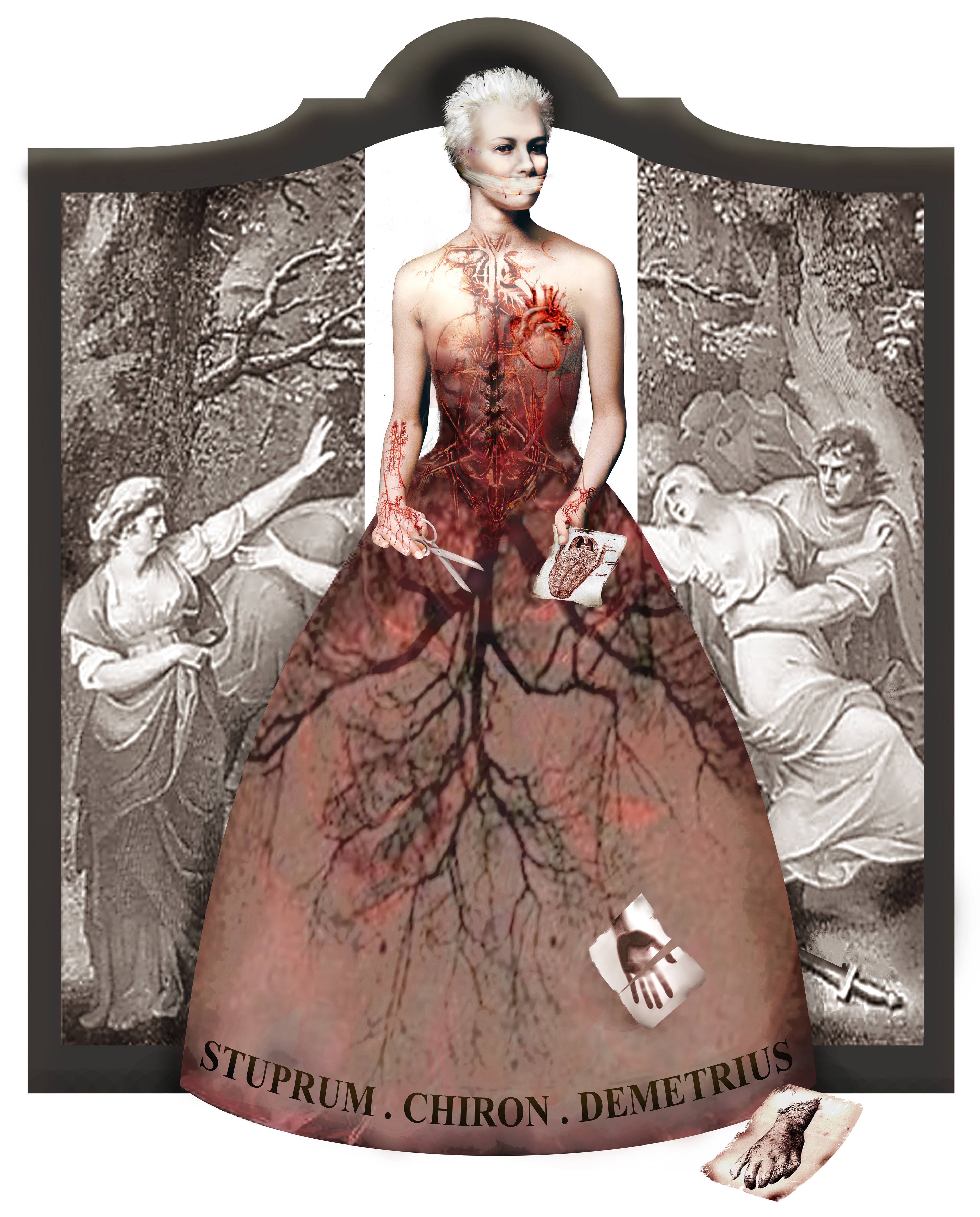 un agradecimiento especial a la modelo, la actriz Adriana Olvera.